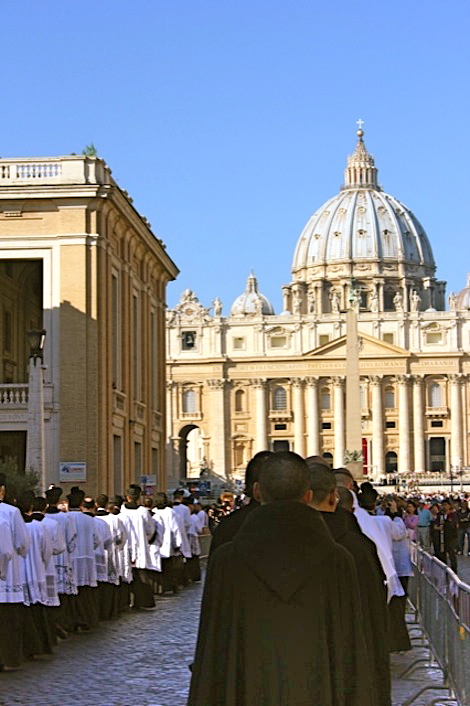 As part of the Year of Faith, the Summorum Pontificum Coetus Internationalis organized from October 24 to 27 his second pilgrimage to Rome. Because of the context of persecution, the word is not too strong, to wich the Apostolic Congregation of Franciscans of the Immaculate and its founder Father Stefano Manelli are still subjected, we felt obliged to support the cause of Tradition and particularly the absolute right to use the traditional rite of the Mass, through active participation in this pilgrimage headed by Fr. Claude Barthe. During these four days have succeeded papal Masses and Vespers, Stations of the Cross and rosary prayer, round tables and official meetings.
This pilgrimage was an opportunity to renew the pious visit to the four major Roman basilicas including Saint Paul's Outside-the-Walls where the abbot and community have very charitably hosted us throughout our stay.
It was also an opportunity for another pilgrimage to the sources of Benedictine life: the Subiaco cave where St. Benedict had been living for three years and where, says St. Grevory, "only under the gaze of He who sees from above, he lived with himself. He watched incessantly to his own care,
always seeing himself under the eyes of his Creator. He kept himself in the cloister of his thought. The holy man grew in virtues and miracles and many were attracted and gathered to serve the Almighty God"
Leaving Rome, on the way back to Villatalla, we will stop at Nursia where St. Benedict and his twin sister, St. Scholastica were born. It is there that, 200 years after the expulsion of the monks by Napoleon Bonaparte, the RP Cassian Folsom and community refounded the monastic life remaining faithful to liturgical observances and tradition. The reception was more than brotherly: we left, laden with numerous gifts including a box of their famous beer which was honored and appreciated even on the table of Pope Benedict XVI. For order, go quickly discover their site.